Theo tin APEC Secretariat
Hue City, Viet Nam
03 October 2017
Issued by the APEC Women and the Economy Forum
APEC member economies have announced the Asia-Pacific's most outstanding women entrepreneurs for 2017.
At the annual APEC Business Efficiency and Success Target Awards, or BEST Awards, the finalists presented their business cases in front of a panel of judges from the public and private sector.
The competition took place in conjunction with the 2017 APEC Women and the Economy Forum in Hue City, Viet Nam, to promote greater women's economic empowerment, participation in trade and economic growth in Asia Pacific.
Rika Yajima from Japan, founder and CEO of Aeru, was selected as the overall winner of this year's BEST Awards out of a pool of 12 finalists from APEC economies. Her successful brand specializes in baby and children products that preserve and promote Japan's traditional culture.
View the list of APEC Best Award winners
VIDEO: APEC BEST Award Participants Introduce their Businesses
"The idea behind Aeru is to connect Japanese tradition to the next generation by creating products for babies and kids that will give them early exposure of the culture," said Yajima, "We are working with Japanese artisans to put together Japanese traditions and contemporary artistry in products such as earthenware cups, dishes, toys, and other customized items for babies and kids to use."
"I believe it is important to go back to the basics and look at what our tradition offers and discover its genuine qualities," she continued.
Yajima opened her company's first online shop in 2012, followed by two other brick and mortar retail stores in Tokyo and Kyoto.
Currently her company employs 10 people and works with 45 artisan factories. In the past five years, their products have reached a quarter of million customers. These include nursery schools, hotel lounges and cafes. With the innovation and social impact her company makes, Yajima also won the award for Best Social Impact.
"Now I need to continue making a bigger impact through Aeru, and hopefully I can replicate the business model in many other APEC economies, because in this day and age, business without culture is not sustainable," Yajima noted.
Nominated by their respective APEC member economies, the BEST Candidates have run and/or owned locally operated small businesses for two to five years.
They were assessed based on the replicability of business model, growth potential, innovation, foreign market prospects, social benefits and particular capacity to create jobs and boost human resources development.
The APEC BEST Awards aim to spread the best practices of women-owned small businesses and provide the opportunity for these entrepreneurs to expand their network beyond local markets.
The contest connect participants with potential international investors, enables to find business partners, and supports market access to the APEC region.
"By showcasing success stories of women entrepreneurs in the region, we hope that many women will be inspired to take the plunge and build their own business," said Natalia Strigunova of Russia's Ministry of Economic Development, which initiated the BEST Awards together with OPORA. This is Russia's non-governmental organization for small and medium business.
"When women are encouraged to embark on the entrepreneurship journey, it will give significant impact for the economy; it will create jobs, boost the ecosystem, and most importantly attract more women to be entrepreneurs," she concluded.
# # #
For further details, or to arrange possible media interviews, please contact:
Masyitha Baziad +65 9104 0101 at mb@apec.org
Michael Chapnick +65 9647 4847 at mc@apec.org
More on APEC meetings, events, projects and publications can be found on www.apec.org. You can also follow APEC on Twitter and join us on Facebook, LinkedIn and Instagram.




​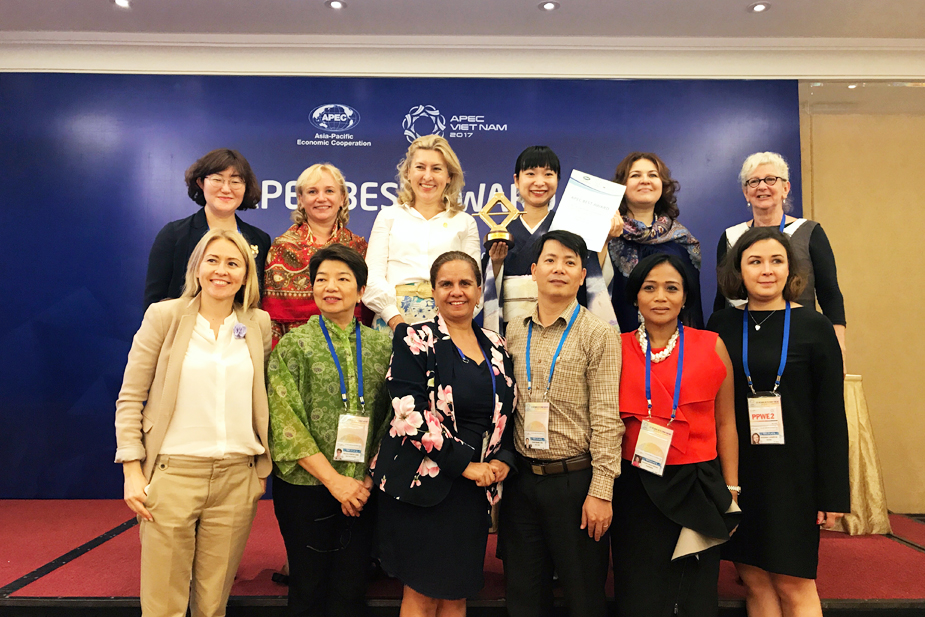 https://www.apec.org/Press/News-Releases/2017/1003_ppwe